Bishop Heights Seesaw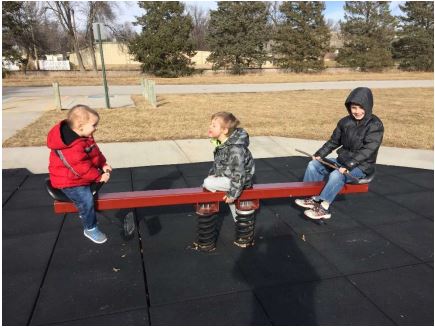 Simon Brockmeier, an 8-year-old Lincoln native, gave a presentation at the Prescott Area Neighborhood Association meeting Thursday, March 1st, at Rousseau Elementary School, to share his progress made on raising money to install new play equipment at Bishop Heights Park. Simon has been visiting his neighborhood park his entire life. He calls Bishop Heights Park, at Prescott Avenue and 30th Street, "our park."
Simon noticed some time ago that some play equipment was removed from Bishop Heights Park. He found equipment he enjoyed at other Lincoln parks and in September of 2017 wrote a letter to the Lincoln Parks and Recreation Department requesting that new equipment be installed, and offering to raise money to be able to do so. Installation of one piece of equipment was in the works (Simon was invited to help select it), but it was suggested to Simon that with private donations, a four-seat seesaw could be installed as well. After meeting with Maggie Stuckey, the director of the Lincoln Parks Foundation, and J.J. Yost, Planning and Construction Manager at the Lincoln Parks and Recreation Department, Simon decided to apply for a mini grant to assist him in his private fundraising campaign. He was awarded up to $1,900 grant from the Lincoln Parks Foundation and is in the process of securing the remaining $1,000 to reach his $2,900 goal.
Simon gave his presentation to the Prescott Area Neighborhood Association. In addition to the $1,900 grant from the Lincoln Parks Foundation, he has privately raised over $1,750. Since the seesaw costs just $2,900, he has extra money (a little over $850) he can designate toward other equipment. He's thinking of choosing a bike rack ($450) plus some trees ($200 each) that would be planted along the street. Simon still has plans for future fundraising, even though he's reached his original goal. If he gains enough traction, he is considering continuing his efforts and going for a shelter ($12,000). He held one birthday party at Bishop Heights Park, but there was only one picnic table, and it was crowded. Since then, he has held larger birthday parties at Antelope Park so he could utilize the shelter there and accommodate more kids. Simon will give another presentation to the Parks and Recreation Department 15-member Advisory Council on Thursday, April 12th at 4:00 pm.The Lincoln Parks Foundation and the Lincoln Parks and Rec Department are so proud of Simon and all of his hard work! 
Please join us in supporting Simon. 
Donations can also be mailed to the Lincoln Parks Foundation at 3131 O St Suite 301, Lincoln, NE 68510