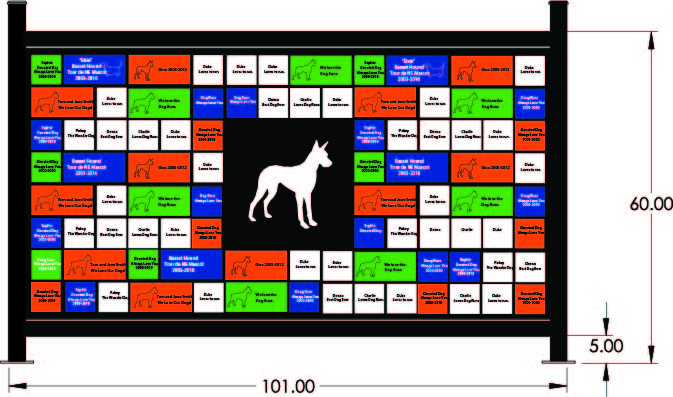 Dog Runs $10,000 Tile Challenge
The Friends of the Dog Parks and the Lincoln Parks Foundation are excited to announce a $10,000 challenge gift from an anonymous donor for the Lincoln Dog Run project!

Between now and Dec. 10, 2017, all donors giving $125, $250 or $500 will receive a colored or aluminum tribute tile to be placed on a beautiful, decorative fence at their favorite dog run (Mahoney, Roper East, Peterson or Rickman's Run). Basically, you'll receive a tribute tile for half-price, thanks to the generous $1 for $1 match from our generous donor. You'll also receive a 2nd, identical tile for your home. Here's how it works:

• Donate $125 and receive a $250 aluminum colored 4"x 4" tile. ($10.84/month for 12 months)*
• Donate $250 and receive a $500 colored 4"x 4" tile. ($20.84/month for 12 months)*
• Donate $500 and receive a $1,000 colored 4"x 8" tile. ($41.67/month for 12 months)*

These beautiful, unique tiles and fence panels have been custom designed and fabricated by TMCO, Inc. of Lincoln. Tiles will be engraved with a (dog or donor) name and 3 lines of tribute text and be placed at the donor's favorite dog run (Peterson, Roper, Rickman's or Mahoney) in early 2018.

This offer will continue through December 10, 2017 or until the $10,000 match is reached.
*Monthly payments accepted through November 2018
If you are buying a tile online, please complete the tile challenge form with your tribute information and email to: info@lincolnparks.org or mail to: Lincoln Parks Foundation, 3140 "N" Street, Suite 301, Lincoln, NE 68510.